AMU or BHU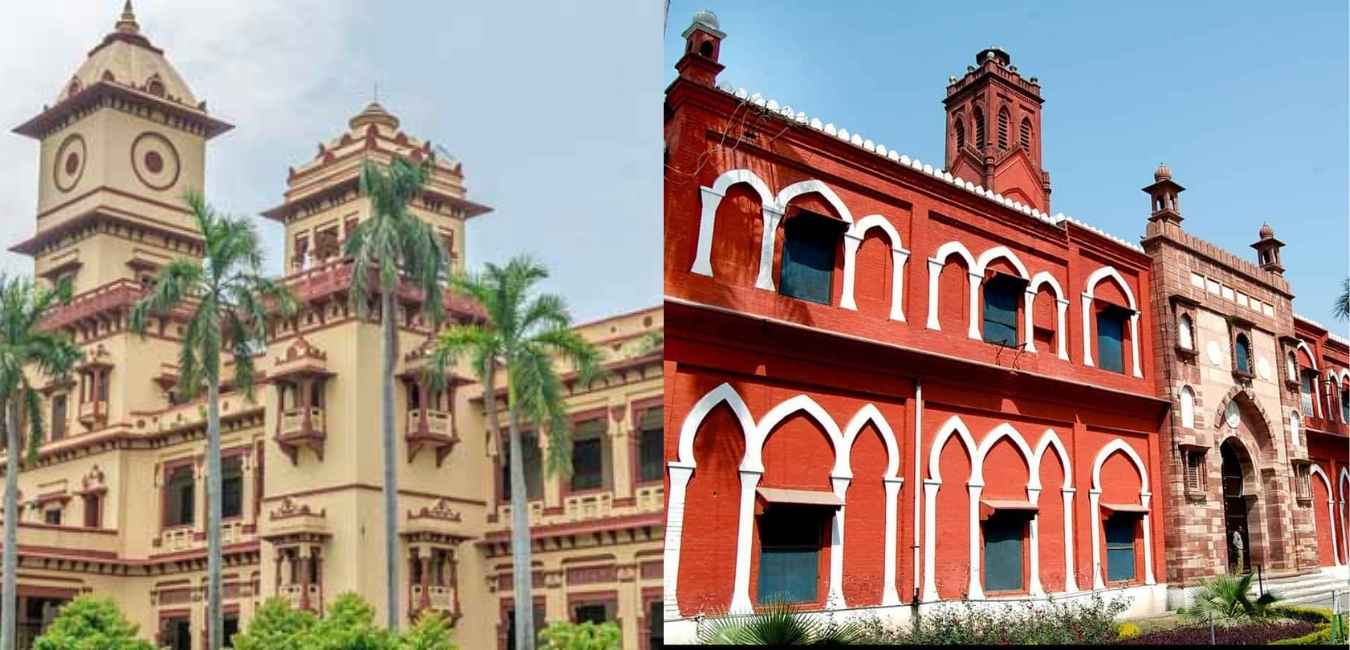 AMU/BHU: The two educational Hubs of Uttar Pradesh
'Get enrolled where you get the best of the placement opportunities', we often hear this statement and give a deep thought over it while assessing the institute to which we can put all our eggs in order to obtain a quality based education and the degree for evidence of the same. But, is education merely about being skilled to the extent that attracts maximum companies to hire from the particular institute? Every year, our youth faces dilemma on which university they should be looking forward to and even among the top and reputed universities; there starts a comparison amidst them of which one stands the first and the best. Let's discus about the two topmost central universities of India, namely; Aligarh Muslim University (AMU) and Banaras Hindu University (BHU)
About the Establishment of AMU & BHU-
Aligarh Muslim University or AMU is a central university. The current Chancellor of Amu is Syedna Mufaddal Saifuddin and Vice Chancellor as Prof. Tariq Mansoor. The university was established by Sir Syed Ahmad Khan in 1875 as Mohammadan Anglo Oriental College in Aligarh, Uttar Pradesh. The college was given the university status as Aligarh Muslim University in 1920. Sir Syed realized the need for providing qualitative education to the Muslim and backward community at large in order to excel and sustain political and social lives. He looked forward to introduce western education system after being inspired from Oxford and Cambridge universities. He also put emphasis on English language in order to make students skilled enough to read multiple materials from other countries as well.
Banaras Hindu University or BHU is also a central university in Varanasi district, Uttar Pradesh. The current chancellor and Vice-chancellor are Giridhar Malaviya and Prof. V.K Shukla respectively. It was established in 1916 and formerly known as Central Hindu Colleges. The seed of its inception was sowed when in 1905 Madan Mohan Malaviya (politician and educational reformer) presented his plan of starting a university during the 21st conference of Indian National Congress. He put forward his concern regarding the India's poverty and focused on technology and science to students with religion and culture. He also favoured English language as medium of instruction and with time planned to add other Indian language. In 1911, the Hindu University Society got registered to gain funds and support for building this university and with the ratification of Annie Besant, Rameshwar Singh, H.H. Prabhu Narayan Singh, and Sundar Lal; it got established.
Major Courses in both the Universities
Aligarh Muslim University offers several qualitative courses in all the major fields with more than 300 courses with 13 faculties
In Arts and Social Science, the university offers B. A in various arts and social science subjects, B.A in foreign languages, B.A. LLB, B. lib, B.FA and their masters, etc.

In Commerce and managements; there are B. com (hons), MBA, MTTM, MHRM, MIRM, MBA in hospital management, M.com, MBA in Islamic banking, etc

In Science stream the university provides MBBS, BDS, BMUS B. tech in various branches, BE, B. SC in many subject, and the masters of all them respectively, the diploma in some important paramedical courses, etc.

PhD- AMU carries out a lot of remarkable research works and provides PhD course in numerous subjects of all the streams
It offers many diploma courses.
Banaras Hindu University equally offers variety of courses
In Arts and Social Science- Hons. In many arts and social science subjects, B. A LLB, LLB, foreign languages, B. FA, B PA in instrumental Guitar, flute, etc. And their masters respectively.

In Commerce and management- B. Com (hons), MTTM, Masters of Personal Management and Development, etc.

In Science- MBBS, BDS, B.Tech with IIT affiliation, B. Sc in numerous science subjects, etc.

The university likewise has the PhD programme too in many disciplines of arts, social science, law, science, etc.
The university offers many diploma and professional courses for more skills.
Aligarh Muslim University has 80 hostels with 19 halls of residence. Each hall has reading room, library, facility of indoor games, sports club, etc. The campus has cricket ground, Willingdon Pavilion, and hockey ground. The Central Library is Maulana Azad Library with many faculty libraries. Jawaharlal Nehru Medical College (JNMC) is the university hospital for teaching. It also has Moinuddin Ahmad Art gallery, CEC, Debating Union Hall, and Sir Syed House. There are university campuses in Mallapuram Kerala, Murshibad West Bengal, and Kishangarj Bihar as well. The other centres of AMU campus have courses like law, MBA, B.Ed, etc.
Banaras Hindu University maintains 62 hostels. The main library of the campus is Sayaji Rao Gaekwad library and many departmental libraries. The university hospital is Sir Sunderlal hospital. It has Bharat Kala Bhavan as an art and archaeological museum, it consists of literary materials, artefacts, textiles, etc. The university has a Rajiv Gandhi South Campus in the district of Mirzapur. The campus maintains library, hostels for students, faculty housing. The south campus also hosts Krishi Vigyan Kendra which translated to Agricultural Science Centre. The centre takes into account agro-forestry, agricultural techniques and biodiversity suitable for the region.
In a broader sense, both the universities have been endeavouring equally to excel to the maximum of their potentials. Ever since their inception, they have reached milestones of excellence and achievements. It's not simply about providing the opportunities of high-profile jobs, but to induce among students the fragrance of eternal knowledge which indeed makes education meaningful. That's what BHU and AMU do. Both the universities were built with the vision of providing arena of knowledge to the succeeding generations with making them skilled for job purpose. The universities have been effectively working towards nurturing students for a century now and hence today we have tons of students passing from these institutions with better vision and reaching heights of success.