AMU Courses after 12th PCM and PCB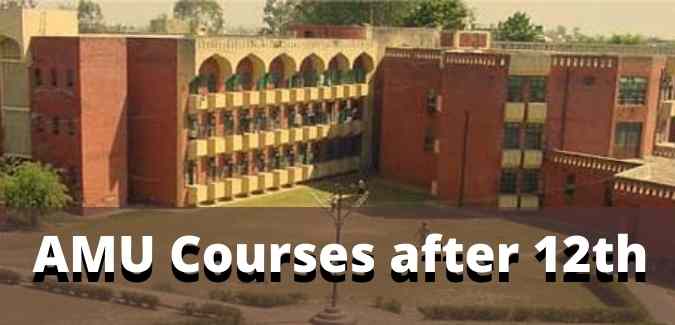 Future Courses after Completing 12th PCM or PCB in Aligarh Muslim University (AMU)
Being one of those central universities of India, Aligarh Muslim University offers various under-graduation programmes and courses. AMU also maintains a number of schools in its affiliation, namely; S.T.S School for boys (founded in 1875), AMU city school (1889), AMU girls school (made especially to empower girls' education), Saiyyid Hamid Senior Secondary School for Boys (1987), Senior Secondary School for girls (1987), City Girls High School, AMU ABK High School for girls and boys separately, and also the Ahmadi School for Visually Challenged students (founded in 1927).  Being admitted to AMU schools get the students 50% internal advantage for the entrance exams further in any courses.
This Question is always comes in every students mind. What is best after 12th in AMU? Whether your from PCM or PCB. Here in this answer of the question.
Students completing 12th PCM and PCB from any institution can avail numerous courses opportunities in AMU. The following are the courses available to apply for-
Students completing PCM can apply for B.tech courses. The engineering faculty has various departments or branches like civil, Electrical, chemical, petroleum, architecture, applied physics, applied chemistry, etc. Candidates looking forward to get admitted to this four years programme should have aggregate 50% marks in 12th and then appear for the entrance exams. The admission is granted on the basis of merit of the test. B. E is also a course of engineering here but the classes are held in the evening.
B. A LLB – It is a 5 year programme and students both from PCM and PCB are eligible to take the entrance and get admitted in this course. The aggregate marks in 12th should be 50%. 
B.Sc. (hons) – Bachelor's in Science offers various subjects to science steam students ranging from Geology, Industrial chemistry, Botany, agricultural science, Computer applications, and many others.
B. A in foreign languages- The department has Chinese, French, German, Russian, and Spanish as the international languages to be taught. It is also a 3years programme and science students can apply for the entrance exams for getting admission here.
B. F. A- Bachelor' in fine arts is also available for both the stream students.
Diploma in general Nursing and Midwifery- The students are required to obtain minimum of 40% total marks in 12th in order to be eligible for this course.
Diploma courses offered in Aligarh Muslim University are 12th PCB and PCM are
Diploma in Animation and Multimedia

Diploma in Wound Care and dressing

Diploma in Nursing Unani

Diploma in Orthopedics and Plaster Techniques.

Diploma in Elementary Education (DEED)

Advance Diploma in Unani Pharmacy

Advance Diploma in Solar engineering and management.
Aligarh Muslim University has endeavoured to expand its arena of courses with better learning opportunities for students. And no doubt, the quality of teaching has made its fair way to the institute; but still there are number of programmes and courses that AMU lacks and are offered by other central universities like JNU, DU, etc.