Irfan Habib History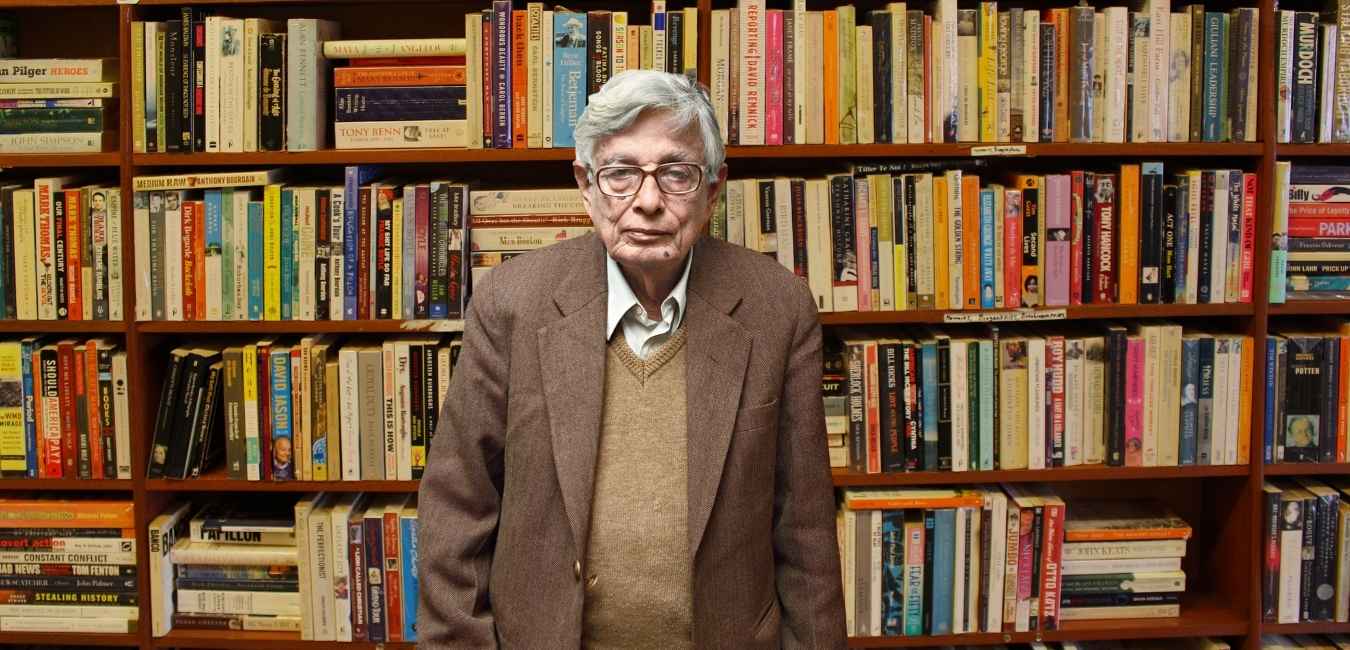 Irfan Habib: The Pioneer of History
"Without undue modesty, we can say we know more about India's past than Marx did" written by Irfan Habib in 'Problems of Marxist historiography' A highly prominent ancient and medieval historian of India, he has served as a history professor in the Department of History AMU from 1969-91. And in 2007, he was granted the position of Emeritus Professor by this university. Having worked in this field for many decades now, he stands from the Marxist school.
Professor Irfan Habib was born in 1931 in the Vadodara city of the state of Gujarat. He completed his under-graduation and post-graduation from Aligarh Muslim University in the years 1951 and 1953 respectively. He effectively excelled with first position in academics in both the programs. After obtaining his master's degree, he started as a lecturer in AMU and then became the Reader here. Moreover, later in 1956; he acquired the degree of D. Phil from New College Oxford.
Professor Habib has widely worked on
Indian Feudalism

History of technologies from ancient to medieval times in India

Researched on Vedas and written meticulously about it and vedic age.

Agrarian system of Medieval India.

Economic history of Medieval India

Marxist historiography

About British colonialism in India

Indus Civilization

Maurya's Rule in India

His one of the famous critique about the book "Orientalism" by Edward Said; in which Said stated that western scholars had only glorified their history and personalities and dishonoured the Asian nation but, Habib, explained that if that so then we would never be acknowledged by Aryabhata, Rumi, , Ashoka and Akbar etc.
Irfan Habib is foremost associated with Marxism; he is often titled as Marxist Historian. This signifies his belief in the existence of classless society which ultimately would nullify the concept of upper and lower class and hence no conflict would take place. His works effectively reflects his Marxist ideology. He strongly opposes communalism and favours the promotion of Secularism; a society capable of putting end to the religious tussles among general population. His ideas has influenced large group of people till date.
Some Awards and Positions
He was awarded Padma Bhushan in 2005

In 2006, he won Muzaffar Ahmad Memorial Prize

In 1981, he became the General President of Indian History Congress

In 1986, he became the chairman of Indian Council of Historical Research

He was granted the position of Editor of Aligarh Magazine in 1952

He was appointed as chairman of Department of History, AMU for two times (1975-77 & 1984-94).
He also enjoyed the position of coordinator of Centre of Advance studies, Department of History, AMU in the years 1975-77 & 1994-1996. He also got the position of Dean of Social Science, AMU.
The Agrarian System of Mughal India 1556-1707

An Atlas of the Mughal Empire

The Economic History of Medieval India

Medieval India: The story of a Civilization

People's History of India- Part 1
The History Department, AMU
Sir Syed Ahmad Khan, the founder of Aligarh Muslim was deeply interested in history and archaeology, therefore he put great emphasis in this field. The Department of History has been prevalent in AMU since the times of 1875 when AMU was established as Mohammaden Anglo Oriental College in Aligarh. The teachings of this subject initiated from then onwards and since then the department has made innumerable achievements and succeeded in various aspects. In 1968, the department was included as a Centre under the centres of Advanced Study Programmes of University Grants Commission (UGC) leaded by an Oxonian, Professor Noor-ul-Hasan. During his tenure, speedy research was happening in medieval history and three-storey building was built for the department. Another very distinguished Professor of History department was Mohd. Habib, Father of Irfan Habib. He became lecturer in AMU in 1922 and was an Indian Islamic Historian. He actively participated in Indian National Movement. He focused on the writing of History and considered that the historical writings should be referred from original sources. In 1972, Mohommad Habib hall was titled after his name. The departments is entitled as the hub of medieval history.
The department has Medieval Archaeology Section that carries out studies and researches on archaeology of medieval times. It also maintains cartography lab for the historical maps and seminar library for all the events and studies.  The department has under-graduation and post-graduation programs. It also admits students for research. Some major Domains focused are-
Sources of History, Persian, Vernacular, Foreign Languages

Socio, Economic and Cultural History

Art and architecture history

Archaeology

Islamic History (E.g. Ottoman Empire, history of Persia, etc)

Central Asian Studies

Military History

Gender History

Onomastic

European history
History is the discipline which engulfs the essence of all the subjects as every subject holds its own history for the people to know the base. Aligarh Muslim University has effectively focused on the history department and its development with the ratification of so many people and its root was created by Sir Syed Ahmad Khan himself. Hence, today the department has its old and long history of developments or modifications. Today, the world knows the department and its professors like Irfan Habib, who not only exercised his knowledge in this institution but all over the world. The various researches and studies are carried out here at a huge level and hence the department is thriving and we can say history department, AMU is still in the great process of creating notable history of eminent works of its own.