How to crack AMU B.Tech Entrance Exams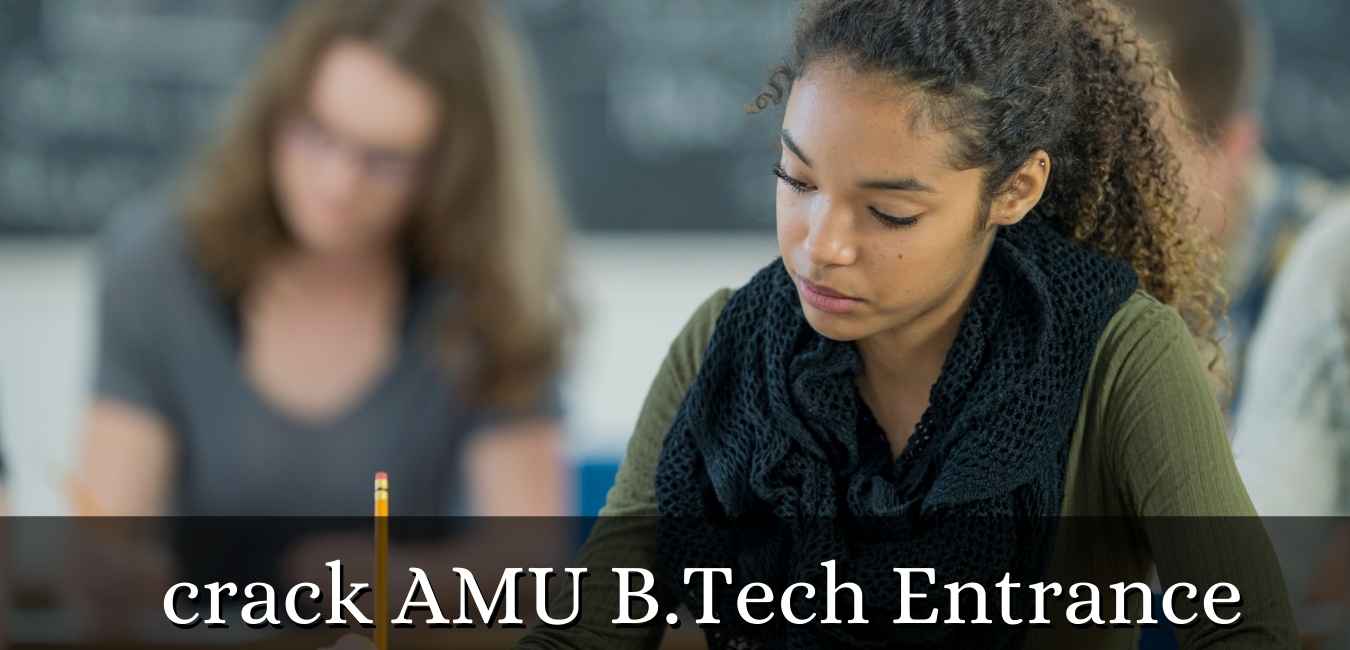 Introduction: How to crack AMU B.Tech Entrance Exam
This entrance exam is conducted by the Faculty of Engineering and Technology. AMU B.Tech. Entrance exam is one of the toughest entrance exams in AMU. This exam needs proper planning study strategies to clear this exam.
Therefore, there are good chances of getting admission in AMU through this test. Without good planning and strategies, it will be little tougher for aspirants to get success in AMU B.Tech entrance exam. So, we are providing you some steps & tips which may help you to crack this Entrance Exam.
Know the Syllabus in detail.

Understand the Exam Pattern and Marking scheme.

Get Basic Preparation books.

Create a Monthly and Weekly Time-table.

Makes important & short Notes and revise them regularly.

Go through Previous Years Question papers.

Give Mock Tests & Sample papers.

Few references books & preparation guides.
Also check: How to crack AMU SSSC Entrance Exams
1. Know the Syllabus in detail
The first step to succeed in AMU B.Tech Entrance Exam, you must know the syllabus of exam. You have to understand the each & every topic of the syllabus. If you are aware of the syllabus, you will able to know; what to study and how much you have to read and how much you have to leave or particular exam.
Brief Syllabus of B.Tech AMU
Physics:

Physical World and Measurement, Kinematics, Laws of Motion, Work, Energy and Power, Motion of System of Particles and Rigid Body, Gravitation , Properties of Bulk Matter, Thermodynamics, Behaviour of Perfect Gas and Kinetic Theory, Oscillations and Waves, Electrostatics, Current Electricity, Magnetic Effects of Current and Magnetism, Electromagnetic Induction and Alternating Currents, Electromagnetic Waves, Optics, Dual Nature of Matter and Radiation, Atoms & Nuclei, Electronic Devices, Communication Systems.
Chemistry:

Some Basic Concepts of Chemistry, Structure of Atom, Classification of Elements and Periodicity in Properties, Chemical Bonding and Molecular Structure, States of Matter, Chemical Thermodynamics, Equilibrium, Hydrogen, s-Block Elements (Alkali and Alkaline earth metals), Some p-Block Elements, Organic Chemistry – Some Basic Principles and Techniques, Hydrocarbons, Environmental Chemistry, Solid State, Electrochemistry , Chemical Kinetics, Activation energy, General Principles and Processes of Isolation of Elements Principles and methods of extraction
Mathematics:

Sets And Functions, Relations & Functions, Trigonometric Functions, Algebra, Principle Of Mathematical Induction, Complex Numbers And Quadratic Equations, Linear Inequalities, Permutations And Combinations, Binomial Theorem , Sequence And Series, Coordinate Geometry, Straight Lines, Conic Section, Introduction To Three Dimensional Geometry ,Calculus: Limits And Derivatives, Mathematical Reasoning, Probability, Relations And Functions, Inverse Trigonometric Functions, Matrices , Determinants, Continuity And Differentiability, Applications Of Derivatives, Integrals Integration As Inverse Process Of Differentiation. Integration Of A Variety Of Functions By Substitution, Basic Properties Of Definite Integrals And Evaluation Of Definite Integrals, Applications Of The Integrals, Differential Equations, Vectors And Three Dimensional Geometry ,Three – Dimensional Geometry, Linear Programming, Probability
You can get detailed syllabus of all AMU B.Tech Entrance Exams by clicking on following link.
Without knowing syllabus, you may waste your time in studying unnecessary topics. So, Students have to thoroughly go through the syllabus to perform well in Entrance exams. Aspirants can prepare better by knowing which topics to cover in depth and which require only canopy information. The students can follow following tips:
Prepare a subject-wise list of topics

Divide the subjects & topics into "easy and hard" according to yourself.

Also classified the topics into maximum and minimum marks weightage on the basis of previous years question papers.
2. Understand the Exam Pattern and Marking scheme
After knowing syllabus, you must understand the Exam Pattern of B.Tech Entrance Exam. This will help you to get an idea f overall structure of exam. There shall be one objective type paper of 150 marks comprising 150 questions on Chemistry, Physics and Mathematics.
It will help the aspirants in their better preparation and time managements. You can get exam pattern and marking scheme of all AMU Entrance Exams by clicking on following link
3. Get Basic Preparation books
To crack AMU B.Tech Entrance exam, you have to select your study material very carefully. If you don't do this, your chances of selection will be decrease. Aspirants need to make a list of some basic Text books (From their XI & XII classes) for preparation of AMU entrance exam. Candidates should start their preparation from studying NCERT Textbooks used AMU academics.
After completing NCERTs and Basic Textbooks of previous classes, a candidate can move on to preparation books or guides. Aspirants are advised to purchase at least one/two preparation books or guides for AMU Entrance Exams according to applied courses. Students are advised to avoid reading multiple books, i.e. don't read too many guides or reference books. Some important books are mentioned in the end of the article.
4. Create a Monthly and Weekly Time-table
Aspirants require preparing a time-table on what topics to cover when, which topics/subjects require high priority and how much to cover a daily, weekly and monthly basis. The benefit of having a daily study schedule is once you are finished with a task, you already know what is next on your schedule.
A proper and good time-table is very helpful s the candidate have to maintain a balance between his studies and other things. There should be breaks between long continuous study hours. They can follow "50/10 or 25/5 – Rule" (50 or 25 mins for study and 10 or 5 mins of break). You have to distribute your time according to your weakness and strengths. There should be proper time for study, food and sleep. Students are advised to create a daily plan & while making a time schedule, special time slot should be provide for completing the syllabus of applied course. Revise the syllabus and content, attempt as many questions papers, mock tests and previous year papers for better preparation and time should given to all these steps of preparation wisely.
5. Makes important & short Notes and revise them regularly
During studying basic texts books of previous classes or NCERT textbooks, students should make or prepare shorts and understandable notes of physics, chemistry, and Maths,  which will be asked in entrance exam. Make easy notes by making Flow Charts, Diagrams, Tables and Posters etc. and stick them wherever possible and review them at least two times a day before sleeping.
There should be fixed revision slot of 1-3 hours in your time-table. Revision is a continuous process. You may think you have prepared a particular topic, chapter or subject perfectly but you won't able be able to retain it unless you revise again and again. It will give you to get perfect on that particular topic or subject. Student can enhance their revision by solving practice questions on the topic from reference books instead. This will help the students to understand the concepts just studied. The students can use easy to digest notes for their preparation for AMU B.Tech Entrance Exams.
6. Go through Previous Years Question papers
The next step to qualify the AMU B.Tech Entrance Exams is to prepare previous years papers. During & after making the notes, candidates need to go through the previous year question papers (At least 5 years) of exams of applied courses. Learn the pattern of solving questions. This is possible only through regular and constant practice.
There is no better method to know the frames and traps for AMU Entrance Exams than practicing papers from the past years. You will likewise get a thought of how much time you have to solve the whole paper as well as what kind of inquiries can come and how you have to handle them. Solving past year papers will also give you the best idea of level of AMU entrance exams.
Candidates should learn and prepare all questions of previous year papers. There is repetition of few questions every year in most of Written or Descriptive Entrance Exams. So, you have to learn previous year question papers. All AMU previous year question papers of last 3 years are available on our site. You can download these papers by clicking on following link.
7. Give Mock Tests & Sample papers
Next step is to give mock tests and practicing sample papers. For this you can buy entrance sample papers of applied course from any books shop or you can join regular test series (online/coaching) and give mock tests at home online or in coaching. The main benefit of giving mock tests is that the aspirants can analysis their performance in test. They can check their mistakes, time spent on individual question, section of exam or on whole exam, and suggestions for improvements.
Students should try to crack mock tests or sample papers within a specific time slot. The general mistake made by most of aspirants is that they never review what they have solved. Whenever you are solving a mock test, try to analyze the questions or topics you are facing a problems with and the areas you are quick to solve. Develop a good planning while solving the practice papers. 50% of the questions in the paper have a low difficulty level, so solve them first. Never solve the paper in row and avoid the questions you face problems or difficulty.
8. Few references books & preparation guides
Recommended Text Books:
Mathematics Part I – Textbook for Class XI, NCERT Publication.

Mathematics Part II – Textbook for Class XI, NCERT Publication

Course in Mathematics for IIT-JEE – Tata McGraw Hill

Coordinate Geometry for IIT-JEE – S.K. Goyal

Differential Calculus for IIT-JEE – Amit Agarwal

NCERT Chemistry –Class 11 and 12

Organic Chemistry and Inorganic Chemistry – O.P. Tandon

Organic Chemistry –Jagdamba Singh

NCERT Physics – Class 11 and 12

Concepts of Physics (Vol 1 & 2) – H.C. Verma (Highly Recommended)
Understanding Physics Series (5 books) – D.C. Pandey