Courses not provided by AMU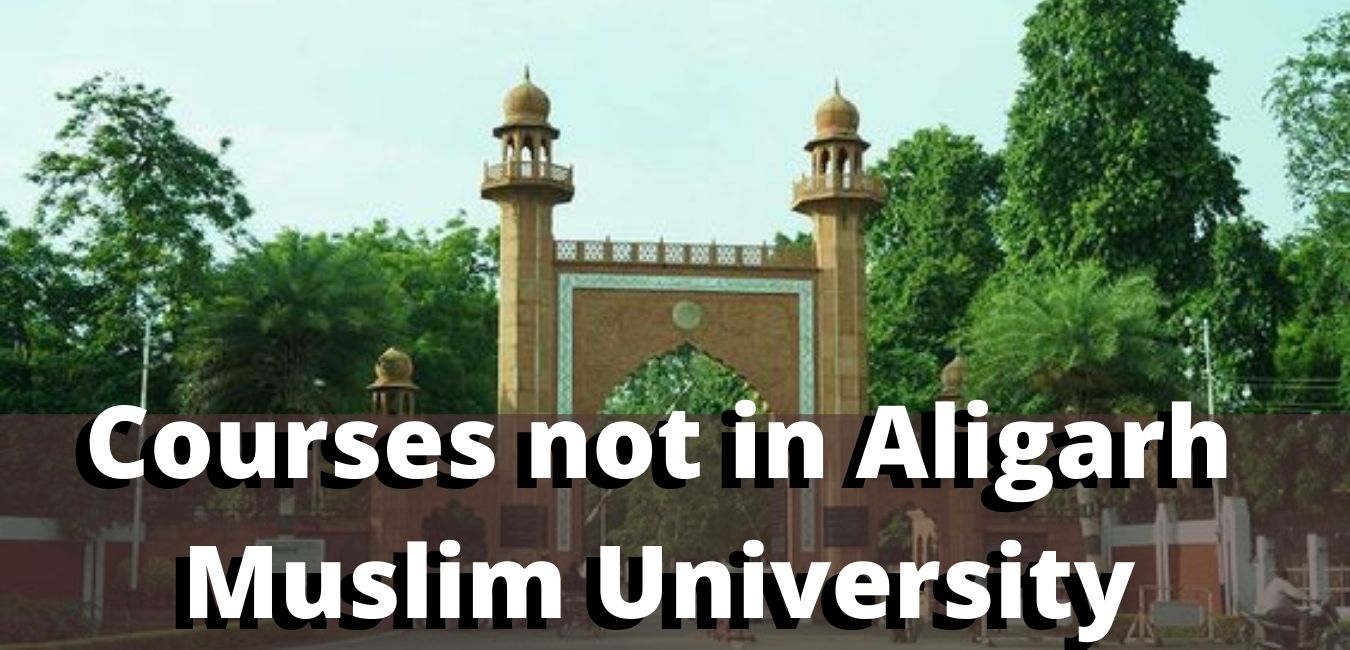 Courses not in Aligarh Muslim University AMU
Aligarh Muslim University has always tried to provide the country with the best educational programs and nurture assets for the nation. Having been one of those remarkable institutions to which students look forward to enlighten themselves with adequate knowledge and skills; AMU has satisfied the goals of many aspirants.
But despite its endeavors, the university lacks some major courses which is the need of the time. With the evolution in society and development of the economy, the job setup has changed its demands remarkably. And AMU seems to catch those demands quite slowly. Now that things have become more digitalized and creative, the company desires a more innovative, professional, and distinctive workforce. It's not that AMU does not have enough but we need more than enough because the professional areas are expecting beyond the sufficient criteria from the young generation.
The excellence is now not restricted to the hard work of the people but to how smartly and efficiently they can run their work. What extra skills they hold for the success of the companies remains the challenge. It would be wrong to say that AMU has not made any modifications and addition in the courses but still, there is some major lacking as per the needs of today's time which is consequently decreasing the opportunities of students here and making them less competitive in the occupational settings.
Some major Courses not available in Aligarh Muslim University
Bachelors' in Business Administration (AMU BBA) – This is one of the major courses for students interested in business and administration learning. Most of the universities offer this course as a bachelor's before students go for MBA. but if you are thinking of AMU BBA then you have chosen a different university because Aligarh Muslim University does not offer Bachelor in Business Administration course.

Bachelors' in BBA-LLB- AMU has a great law faculty with the availability of BA. LLB, LLM, and Ph.D. for students. BBA LLB is a crucial field of law as for the requirement of company lawyers in the corporate sectors. There is no course of BBA LLB in AMU.

B.com LLB– There is absence of this 5 year programme as well.you can pursue B.com LLB in AMu

Bachelors' in Biotech– This is a great course for Students from biology backgrounds to learn about medicines and how they are to be made. Biotech has a big name in the Science field but you cannot do biotech as in a bachelor course.

Bachelor' in Journalism– This is a very prominent 4 years program which highly job-oriented course of today's time. Journalism is that area where the youth of this generation willingly desire to make their career. But, unfortunately, AMU does not have this too. you can do a master's in mass communication and journalism in AMU, not but a bachelor.

Not enough foreign languages– Aligarh Muslim University did open a foreign language department in 2016. And still, it doesn't have enough languages as per the current requirements. For e.g., Italian, Latin, etc.
Lack of specializations– AMU does not have enough area of specialization at the master's level in various post-graduation programs. E.g., the psychology department of AMU does not have specializations in criminal psychology, neuropsychology, counseling psychology, etc.
Bachelor's in Media Science– This course makes students skilled with the knowledge of print as well as digital media and how they can be using them in the practical world. These kinds of courses hold huge scope for themselves in current times.
Bachelor's in Event management– Now the generation demands skilled and innovatory managers to arrange both formal and informal events. Hence, this sort of courses are imperative to open the doors of different areas where many can perform to their optimum level and earn profit. amu event management course are not available.

AMU does not provide M. Phil in many subjects. you cannot do M.phil in many courses For e.g. AMU M.Phil in History, psychology, etc. Although M. Phil is generally available for all in most of the universities.
Bachelor of Foreign Trade – In this era of globalization, the students of commerce and economics would likely to get themselves to learn these areas to excel in their fields. AMU should expand the commerce or business-based courses to get students to understand the business world demands better and attain great exposure. but Amu does not Provide bachelor of foreign trade in Aligarh university

There is not any availability of pharmacy courses in AMU, like pharmaceutical chemistry, pharmaceutics, pharmacognosy, pharmacology, pharmacy practice, pharmaceutical quality, etc.
Bachelor's in Hotel management– Among all the management courses; this is also one of the important and fruitful courses of the field. Concerning this, Amu needs the inclusion of this course. AMU does not Provide a hotel management course in Aligarh or anywhere as Diploma and Bachelor. but you can do MBA in Tourism and Travel Management

Bachelor's in Fashion Designing– In this age of great emphasis on 'Fashion sense', the course of this field calls numbers of opportunities and benefits. but Aligarh Muslim University AMU does not provide a diploma in fashion designing course.

There is a range of other courses that are not provided by AMU and they need to be here for the students to explore multiple fields for their careers.
Being one of those top central universities of the country, it should also open doors for digital-based courses like- web designing, graphic designing, data analytics, etc. Due to the Covid situation, the educational and professional areas have taken a major shift to the digital or internet world, it is the responsibility of central universities like AMU to educate the students for the same, enrich their knowledge and prepare them for the newly emerging challenges.